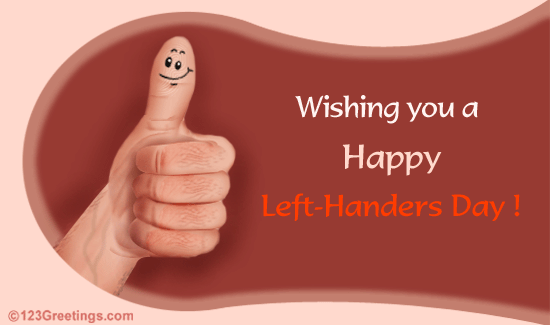 Left-Handers Day was first celebrated on August 13th, 1976 by Lefthanders International). The purpose of the day is to both celebrate left-handedness and raise awareness of the unnecessary biases against left-handers. The holiday is still proudly observed by lefties every year on August 13th. Enthusiastic supporters may organize lefty vs. righty sports matches and encourage right-handers to try using left-handed products to experience the same awkwardness they are too often forced to endure. A few more

lefty 

facts

…
What causes left handedness?
The factors that contribute to handedness, are not completely understood. Both genes & environmental factors are involved, but the brains play a significant role as well. The left brain, which controls the right hand, is dominant in most people and is the center of logical thinking. But in left handers is the right brain more dominant. And because the right brain is more associated with art, creativity, phantasy & emotional expression – the might explain why research has indicates that left handedness is about twice as often seen in artists than in the general population.
Where does left handedness excel?
Typical fields where left handers relatively often excell are:
>> POLITICS: 
7 Out of the last 14 US presidents were left handed, and Barack Obama's final 'rival' – senator John Mc Cain – is left handed; in 1992 all three presidential candidates (George H.W. Bush, Bill Clinton & Ross Perot) were left handed!
>> SPORTS: 
Left-handers excel particularly in tennis, baseball, swimming and fencing.
>> SCIENCE:
Leonardo da Vinci, Michelangelo & Isaac Newton were left handed, and 1 in 4 Apollo astronauts were left handed.
>> HISTORY:
A few other exceptional historical 'lefties' from various fields are:
Julius Caesar, Fidel Castro, Charlie Chaplin, Robert DeNiro, M.C. Escher, Mahatma Gandhi, Bill Gates, Alexander the Great, John McEnroe, Niccolò Paganini, Rembrandt van Rijn, Romario de Souza Faria, Mark Twain.
SUGGESTION FOR FURTHER READING:
• Left handedness in the news! 
• 7 out of the last 14 US presidents were left handed! 
• Left handed people are intelligent & creative!
• The origins of left handedness!
• Left handers day 2009!
Long ring fingers drive faster (and sprint faster!)

New research from Germany points out that men with long ring fingers may more easily drive too fast, overtake on dangerous roads, and park illegally – indicated by more (self-reported) traffic violations!

Earlier research pointed out that Jamaicans are known for having long ring fingers: a rather remarkable – speculative – story about how "the world's fastest man" got into a car accident earlier this year (luckely Usain Bolt escaped without serious injuries).
Earlier ring finger research:
Numerous finger length studies have shown that a long ring finger compared to the index finger in men, can have a powerful effect on health & behaviour.
Quite a few studies suggest that a long ring finger is linked with: increased male aggression, outperformance in sports & (financial) risk-taking behavior.
How to measure the 2D:4D finger length ratio: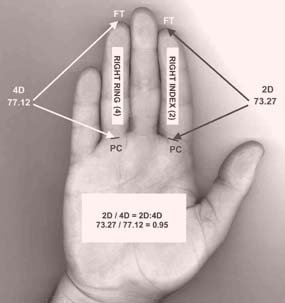 New ring finger research from Germany:
Researchers at the University of Mainz recruited 77 male drivers at an average age of 38. Each volunteer had their left hand scanned to measure the difference in length between the ring and index fingers.
They then had to provide details of all driving offences within the previous five years. Just over a third of the drivers reported having penalty points on their licences, ranging from one to 20, for offences ranging from speeding to drink driving.
The results, published in the journal Accident Analysis and Prevention, showed men with longer ring fingers were more likely to have offended.
In a report on their findings the researchers said: 'A longer ring finger than index finger was related to more traffic violations. Hormone exposure in the womb might increase traffic violations in later life.'
Jamaicans have the long ring finger, and… Usain Bolt has the long ring finger!!
Now, knowing that Usain Bolt has the long ring finger & with the German research findings in mind:
… You might wanna take a look at the full story of Usain Bolt's car accident earlier this year (april, 2009):
A FEW SUGGESTIONS FOR FURTHER READING:
• About: long ring fingers, testosterone & men who drive too fast!
• Finger length & agression: a continuing story!
• What they say about men with long ring fingers!
• More stories about the ring finger!