Today, exacty 115 years ago, on november 8, 1895, Wilhelm Röntgen (1845-1923) made his famous discovery: he produced and detected electromagnetic radiation in a wavelength range today known as X-rays or Röntgen rays, an achievement that earned him the first Nobel Prize in Physics in 1901. The picture above is the very first röntgen photo made of a human body: it's Mrs. Röntgen's hand, including her wedding ring!
Wilhelm Conrad Röntgen (accidentally) discovered an image cast from his cathode ray generator, projected far beyond the possible range of the cathode rays (now known as an electron beam). Further investigation showed that the rays were generated at the point of contact of the cathode ray beam on the interior of the vacuum tube, that they were not deflected by magnetic fields, and they penetrated many kinds of matter.
A week after his discovery, Rontgen took an X-ray photograph of his wife's hand which clearly revealed her wedding ring and her bones. The photograph electrified the general public and aroused great scientific interest in the new form of radiation. Röntgen named the new form of radiation X-radiation (X standing for "Unknown"). Hence the term X-rays (also referred as Röntgen rays, though this term is unusual outside of Germany).
The announcement of Roentgen's discovery, illustrated with an X-ray photograph of his wife's hand, was hailed as one of mankind's greatest scientific accomplishments (comparable with the discoversie made by Albert Einstein & Charles Darwin), an invention that would revolutionize every aspect of human existence.
Source:
In Otto Glasser, Wilhelm Conrad Röntgen and the early history of the Roentgen rays. London, 1933. National Library of Medicine.
MORE RECOMMENDATIONS:
• Into the hands of Darwin – 'Godfather' of the Evolution-theory
• Into the hands of Albert Einstein – 'Godfather' of modern physics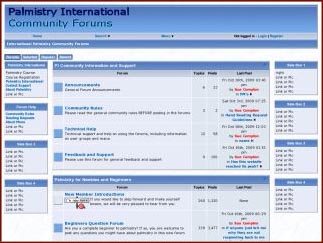 Are you interested to ask a question about your hands? Or do you have a question about Palmistry?
You can ask your question at the:
'Palmistry International Comunity Forums!!!'
(A review of this forum is presented at: "LET'S TALK ABOUT … HANDS!")
This Palmistry forum had a re-start earlier this month, and offers at the new domainname www.piforums.net:
- Free assistance from some very experienced Palmists and Hand Analysts in the world!
- A rich history of discussions and shared palmistry materials!
- Palm reading analyses of the hands of Michael Jackson, Barack Obama, Albert Einstein, Benazir Bhutto, Hillary Clinton, Megan Fox, Nelson Mandela, Jessica Simpson… and many more famous people & celebrities.
For example, you can also take a look at some 'famous hands':
* The hands of Michael Jackson!
* The hands of Barack Obama!
* The hands of Albert Einstein!
* The hands of Benazir Bhutto!
PS. NOTICE: You'll have to join this international palmistry forum to look at the pictures & illustrations in the 1900+ discussions!!!
Albert Einstein's handprints are presented at the bottom of this post (the high quality versions are available at:

THE HANDS OF ALBERT EINSTEIN

). Let's take a look at the hand characteristics that have been associated with autism in varioius scientific studies:

2D:4D Finger ratio

Professor John T. Manning described in 2002 in his first book titled: 'Digit Ratio' that the hand in autism is often characterised by a by a '2D:4D finger ratio' of 0.94 of lower. Interestingly Albert Einstein's digit ratio appeared to be close to 0.93!

Fingerprints

Some Romanian researchers described in 2003 some significant results related to fingerprint asymmetries between the the right hand and the left hand. They described that they found that the hands of persons who have autism are often featured with more 'arch' fingerprints in the left hand and/or more 'loop' fingerprints in the right hand. Interestingly, Albert Einstein has 2 'loops' (middle finger + pinky) in his right hand and only one 'loop' in his left hand (pinky)!

Unusual hand lines

In time various scientific studies have reported that the hand in autism is frequently featured with unsual palmar lines. The most important unusual palmar lines are: 'the simian crease' & 'the Sydney line'. Interestingly, Albert Einstein has an (incomplete) Sydney line in his left hand!